Track and Trace for an Increased Visibility
Build a sustainable ecosystem in agriculture
Get in touch
Ensure the authenticity of the origin and safety of agricultural products by accurately tracking them at every node of the supply chain. Agrichain provides the ability to identify the present and past locations of all the products across the supply chain efficiently. Ultimately, using QR-code-enabled traceability, helps manufacturers and retailers obtain a complete view of the complex product journey. Agrichain offers real-time visibility and end-to-end transparency among trading partners. It also facilitates complex contract discussions without the use of intermediaries. Thereby reducing the cost and error associated with it. Being an integrated solution, saves cost, time & effort and provides a trusted environment for data exchange and workflow. By keeping a 24/7 track of the supply chain, Agrichain offers a live dashboard of real-time data and secondary sales information. Thereby helping the agricultural sector fight fraud and counterfeits by obtaining a complete view of the complicated product journey. With Agrichain, consumers can easily confirm the authenticity of the products by scanning the QR code and viewing the entire supply chain of the product, thereby ensuring anti-counterfeit of products. Agricultural industries across the world can rely on Agrichain's anti-counterfeit and traceability solutions for speed, transparency, traceability, efficiency, and accuracy.
Existing System

of Agri Supply chain
Lack of transparency and traceability
Inefficient supply chain
Issues of food quality and safety
Counterfeiting of Agri Products
Excessive human blunders
Unauthorized vendors involved
Lack of data interpretation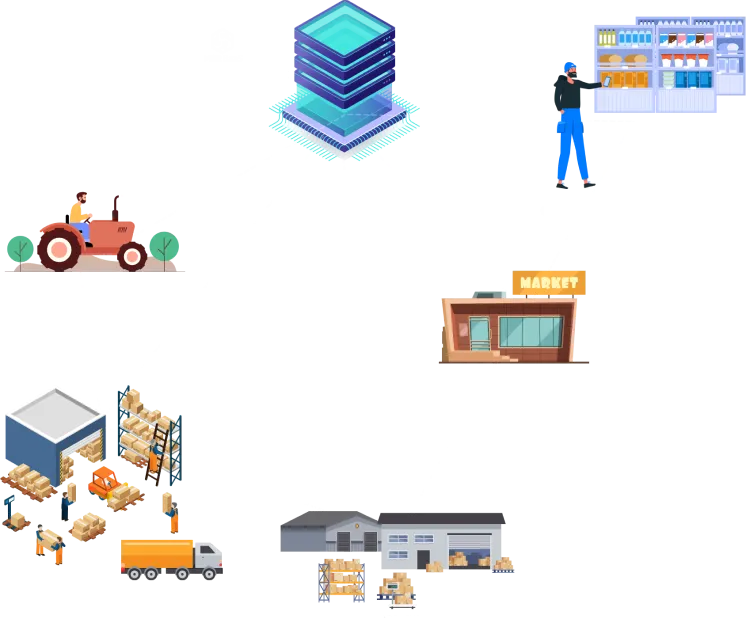 Proposed System of

Agri Supply chain
Cloud based low cost and scalable blockchain solution
Integrating existing supply chain systems to DLT
Blockchain enabled QR codes
Web applications and mobile apps for each stake holder, including end customer.
FarmIQ gives organizations the insights to anticipate what customers want and act instantly to deliver on these demands.
With FarmIQ, unleash the potential of blockchain and create one-of-a-kind supply chain system for your industry.
World-class, economic, intelligent Blockchain solutions for every organization.
Enhances traceability with QR code and provides cost- efficient delivery of products.
Increases visibility across the entire manufacturing spectrum
Helps track the real-time consumption pattern of The retailers.
Incentivizes the retailer directly and maximizes the ROI
Accelerates customer growth with effective loyalty programs.
Offers dashboard of Scheme Performance, Secondary Sales, Retailers & End Customers Registrations.
Use Cases
Use case
Lack of data flow in the supply chain
Leverage the flow of voluminous data to build a real-time integrated supply chain and drive innovation across your industry with Agrichain. Problem: Recurring fraudulent practices Lack of transparency in agri-food
Read More
Use case
Environmental Sustainability
Environmental Sustainability As environmental concerns around climate change and global warming get louder, customers, governments and companies are pressurizing supply chains to become as environmentally
Read More
Use case
Brand socialization and customer loyalty
Remould and enhance your rewards and customer loyalty solutions to gain efficiencies, reduce costs, and enhance brand loyalty. In today's world, businesses are at the
Read More
Get in Touch with Us
Find More About How We can help your organization navigates it's next. let us know the areas of interest so that we can serve you better